In today's time, traveling is never complete without pictures. Whether they are to brag to your friends about your holiday or simply to keep memories from your trip, a camera should never be forgotten. For some, their mobile phone is enough to capture beautiful memories. For others, however, they need to have an actual camera. In this case, if you are looking for the best camera that you can bring in your travels, keep on reading and we will let you know some of the best brands and models that can be taken into consideration.
GoPro Hero 4
The following are some of the main features of this camera:
Built-in Wi-Fi and Bluetooth
Professional Audio Performance
Auto Low Light Mode
Compared to the other models that are mentioned in the rest of this post. GoPro Hero 4 is an action camera, which explains why it is significantly smaller. This is the perfect choice for people who are adventurous and on-the-go. It comes with a rugged case that makes it perfect for thrilling activities, such as diving, sky diving, and motocross, among other adventures you can have on your trip.
One of the best things about the Hero 4 is its connectivity. You can use the small remote to have it controlled. Alternatively, you can download the GoPro app on your smartphone and use it to control the device, as well as in viewing the photos you have captured.
Olympus Tough TG3
The following are some of the main features of this camera:
Waterproof up to 50 feet
3-inch OLED Monitor
16-megapixel Sensor
Bringing a camera when traveling can be annoying because of its weight. With Olympus TG3, on the other hand, this should never be an issue. It has a compact body, although not as small as the GoPro Hero4. Even in spite of its small size, it is jam-packed in terms of features. It can survive a depth of up to 50 feet, making it perfect for those snorkeling trips that you are planning.
One of the many reasons why you should have this camera is its toughness. It is built to withstand shock, dust, and freezing. It is perfect if you are an adventurous traveler. The Wi-Fi feature is also great as it makes it easy to share your latest travel photos to make your friends wish they were with you.
Panasonic Lumix DMC-GX7
The following are some of the main features of this camera:
Interchangeable Lens
HD Video
Wi-Fi Connectivity
For the stylish photographer, this is perhaps one of the best cameras to have when traveling. Aside from its compact size, it also shoots excellently and has an unrivalled image quality. In terms of flexibility, it can be used with lenses from Olympus, Panasonic, and Leica. It comes with an excellent hand grip, making it stable and easy to hold. It may be larger and heavier than most point and shoot cameras, but the added weight should be alright because of its quality.
In one edition of the National Geographic magazine, this camera has been used to take pictures of the Outer Banks in North Carolina. The pictures looked very professional, which is an obvious indication of how it can rival many cameras within the marketplace.
Fujifilm XT1
The following are some of the main features of this camera:
HD Video
Interchangeable Lens
Electronic Viewfinder
When it was released in 2014, it did not take long before it was able to captivate the attention of many travelers and photography enthusiasts. The retro style of this camera will make you reminiscent of the film cameras of the 1970s. Even if the look is vintage, the functionality is ultra-modern, especially when it comes to speed.
To further lure the market, more than its aesthetics, the company also asserted that this camera has the fastest auto focus in the market at .08 seconds. Its autofocus is indeed a huge improvement from other models of the same series in the past. More so, the company also highlights its weather-resistant body, making it perfect for tough adventures during your travels.
Nikon S9500
The following are some of the main features of this camera:
22x Zoom Super Telephoto Lens
Built-in Wi-Fi and GPS
1-megapixel CMOS Sensor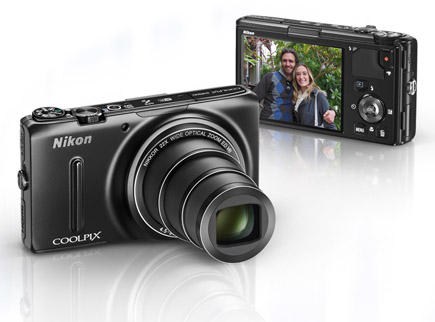 The cameras that have been mentioned above have advanced features and they may be difficult for beginners to use. With such, if you are a novice photographer, this is most probably one of the best cameras you can take with you when you travel. It is slim and stylish, making it the ideal companion for your holiday.
Because it is built specifically for beginners, there are no manual modes in this camera. There are various auto modes, which eliminates the need to figure out the right settings for every shot that will be taken. It is also a good thing that it has a Wi-Fi functionality, making it quicker to have the photos shared.